The Perfect Game Box Set
Books 1-3 of the Perfect Game Series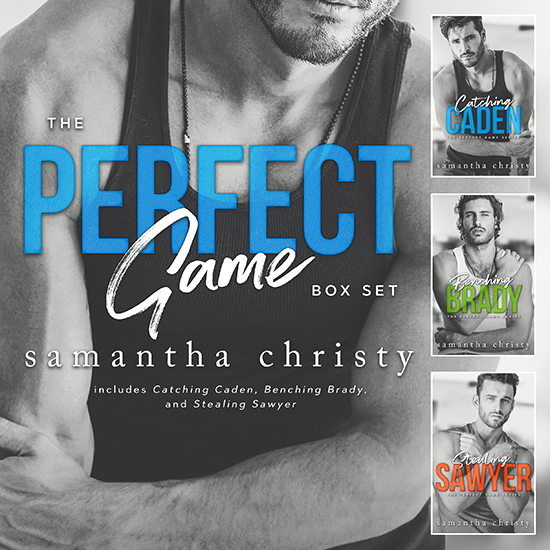 Meet the Nighthawks. Sexy. Rich. And sometimes … filthy.
Three men committed to bachelorhood.
Three women determined to change everything.
Book One – Catching Caden
If all they see are her scars – they aren't looking hard enough.
It was my home run ball that shattered her face.
Right along with her modeling career.
Now it's my mission to help her rebuild her life.
And get her to love the game that she hates.
The game that dictates my life both on and off the field.
But when the lines of our friendship become blurred, I worry she'll just be another casualty of my three-strikes rule. The rule I have to protect my money, my future, my heart.
No girl has ever broken it.
I've never wanted one to.
Until now.
The question is … will I let her?
Book Two – Benching Brady
FASTBALLS. FAST CARS. FAST WOMEN.
They are how I've learned to cope.
But then life throws me a curve ball.
And I may never play the game I love again.
Then I meet her.
She represents everything I've lost.
In the best and worst of ways.
She may be the only one who can get me back in the game.
And I'm not just talking about baseball.
Book Three – Stealing Sawyer
I hired her to be my girlfriend.
To fix my reputation.
To save my career.
It's not that I don't want a girlfriend. I do. I want it all. Wife, kids, side-by-side burial plots.
The problem is – I can't have any of it.
So I've made myself untouchable. The quintessential bachelor of baseball.
Because it's not worth the risk. Not even for someone I love.
Especially not for someone I love.
We made the arrangements.
We agreed to a contract.
It's iron clad.
No sex. No love. No future.
What could possibly go wrong?
Benching Brady: Death of a child/spouse