The Men on Fire Box Set
Books 1-3 of the Men on Fire Series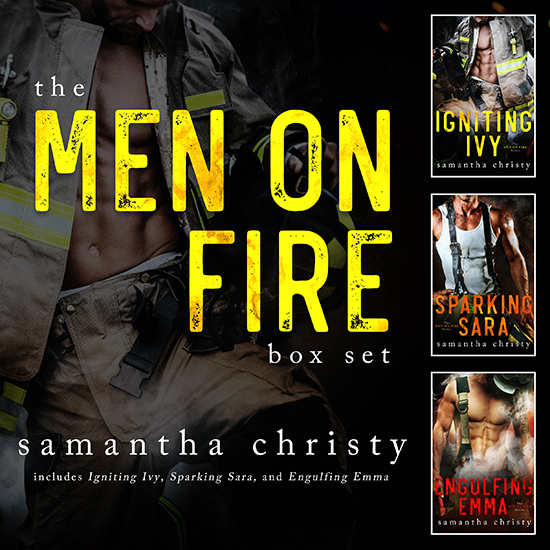 Heroes, not billionaires.
Three firefighters.
Three women who need saving.
Three stories you'll never forget.
Book One – Igniting Ivy
They call me a hero.
I save people. It's what I do.
It's the only thing I've ever wanted to do.
Then I meet her – the girl with the sad eyes.
She's lost everything. Twice.
And I know she's using me to forget her past.
Just when things seem perfect, that past threatens with the unimaginable.
They may call me a hero.
But she's the one person I can't save.
Book Two – Sparking Sara
Three years of her life are gone in an instant.
Her memories of becoming a famous artist – forgotten.
Of the falling out with her best friend – lost.
Of her charming boyfriend – erased.
The doctors tell us getting Sara back into her normal routine is what's best for her.
But what happens when she doesn't want her old normal?
Some would say I'm trying to save ghosts from my past.
I think they're wrong.
Maybe all of them are wrong.
Maybe the best thing for Sara is me.
Book Three – Engulfing Emma
Single dad.
Firefighter.
Hero.
On the heels of divorce, Lt. Brett Cash never expected to meet the woman of his dreams. Especially not during a robbery gone bad.
But just because she's the woman of his dreams does not mean he's the man of hers.
Emma is a child of a 9/11 hero taken far too soon. And she's not about to let her own daughter go through the same hell she did.
Not even for … well, let's face it–the man of her dreams. The last thing Emma Lockhart needs, or wants, is a hero.
Igniting Ivy: Death of a child, miscarriage
Engulfing Emma: September 11th references, hostage situation