The Reckless Rockstar Box Set
Books 1-3 of the Reckless Rockstar Series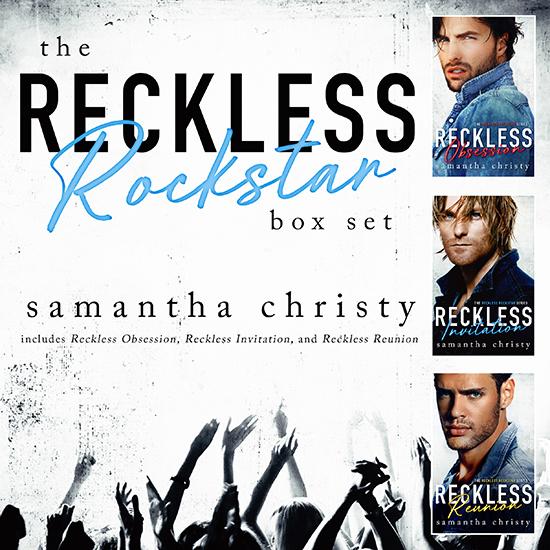 Lyrics. Melody. Rhythm.
These rockers prove that music can heal the heart and soul with every reckless beat.
Book One – Reckless Obsession
Damaged musician – that's the understatement of the decade.
I'll bet if I googled those two words, I'd see his picture.
I've been invited to join his band, Reckless Alibi. His all-guy band.
Well, everyone wants me to join but him. What's his problem?
He's passionate about music. One might even say obsessed. But as the only woman in the band, when that obsession gets directed at me, I find I may have gotten in way over my head.
Like me, he writes lyrics. His secret journal of songs I found by accident tells me he's not just damaged… he might be destroyed beyond repair.
Guess I'm about to find out.
Book Two – Reckless Invitation
I play guitar.
I create music.
It's all I ever wanted to do.
But I'm in a rut.
I've lived under the shadow of my past for so long I can't see a future.
Then she falls into my life.
And suddenly, all I can hear are riffs, melodies, and beats.
She's my muse—my inspiration.
She's exactly what I need to get me back into the groove.
But will she accept my invitation?
Book Three – Reckless Reunion
Go on tour with the woman who betrayed me?
Not on your life.
Six years ago, she was just some stranger I woke up next to. By nightfall, I knew she was the one.
Or so I thought.
Six months later, she destroyed me.
And now, we're being forced into a reunion neither of us wants.
We may have to play nice, but when the lights are off… so are our masks.
Reckless Obsession: Death of a partner, death of an unborn child, kidnapping
Reckless Invitation: Child sexual assault, suicide
Reckless Reunion: Abortion