The Devil's Horn Ranch Box Set
Books 1-3 of the Devil's Horn Ranch Series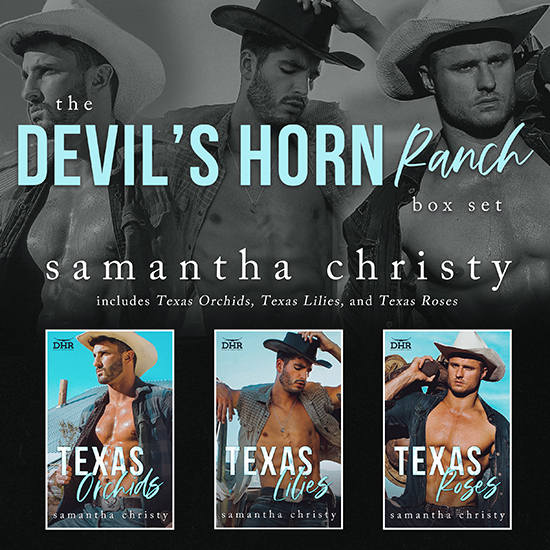 Welcome to Devil's Horn Ranch where the days are hot and the cowboys are hotter.
When the owner of this family ranch passes, can Maddox, Aaron, and Quinn keep it going, or will it fall into the hands of the town bullies?
A sexy, heartwarming, and sometimes heartbreaking series of three men finding love in a small town.
★ Book One – Texas Orchids
(a small town, fish out of water, sweet and sexy romantic suspense)
I'm a city boy, not a cowboy.
I'm way out of my league on a horse ranch in Texas.
Falling for the sexy horse vet was never my intention.
Especially when I find out she could be dating a killer.
Sneaking around with her?
Not my brightest idea, but someone's got to protect her.
It's just one summer. One casual fling.
Until it becomes everything but.
★ Book Two – Texas Lilies
(a forced proximity, surprise pregnancy, virgin heroine romance)
Everything is bigger in Texas.
Including secrets.
Devyn came here to be invisible. To run from a past that gives her no chance of a future.
Until the day I pull a gun on her and fall head-over-heels in love. With her tenacity; her beauty; even her brokenness.
I don't need to fix her. I just want to help put together her shattered pieces. I know how to do it. I know broken.
But in our world of untold truths, love doesn't heal all wounds.
And I'm about to find out just how deep hers are.
★ Book Three – Texas Roses
(a king of one-nighters, secret baby, friends with benefits romance)
Dirty. Texas. Money.
I want nothing to do with it. It's money I didn't earn, coming from a family I don't want to belong to.
So my trust fund sits untouched while I live in the help's quarters on the ranch, screwing any woman who looks my way.
I never wanted to be part of a family. I never wanted anything.
Until Amber.
Amber Rose Black, the lost soul searching for a place to fit in.
Me—I'm that place. And damn it if we don't fit together perfectly.
But just when I think things are going my way… BOOM. The other shoe drops.
It always does.
I just didn't expect the shoe to be a colossal-sized boot filled with concrete, tied to a stack of bricks, and chained to the bottom of a river… so to speak.
If things go south, I may lose everything I never knew I wanted.
**For fans of The Mitchell Sisters, this series is a second-generation collection following the children of Baylor, Skylar, and Piper Mitchell.**
Texas Orchids: Kidnapping of an adult
Texas Lilies: Death of a friend/sibling
Texas Roses: Suicide