A Samantha Christy Box Set
Three Standalone Novels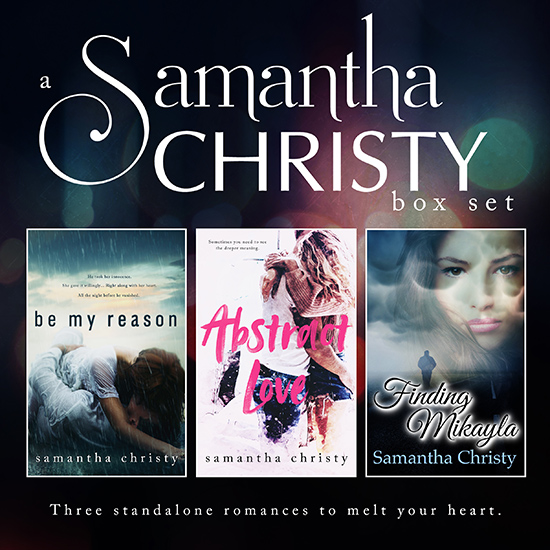 Three full-length romances that will make you laugh, cry, and have all the feels.
Book One – Be My Reason
HE TOOK HER INNOCENCE.
She gave it willingly…
Right along with her heart.
All the night before he vanished.
For years, Brooklyn tried to forget about him.
But Nate was unforgettable.
An unexpected meeting throws them together, and he'll do anything to win her back.
But Brooklyn is dealing with her own loss and Nate must confront his demons before he sends her life into another tailspin.
Can these two souls reconnect and overcome their obstacles to be together? And if there is such a thing as destiny, does it win at all costs?
Book Two – Abstract Love
HE CAN'T SAVE MY BREASTS.
I CAN'T SAVE HIS VOICE.
But what we can do is take the scariest thing we've ever faced and make it better … tolerable … dare I even say … fun.
At twenty-four and facing an uncertain future, I wasn't looking for this.
I wasn't looking for him.
But life never asked me what I wanted.
We come from different worlds.
He's an artist. I'm a bartender.
I wonder, however, if this horrible bond we share is enough to bridge the gap between us.
What happens if we don't get better?
What happens if we do?
A sweet tale of love and survival.
Book Three – Finding Mikayla
ROMANCE DOESN'T DIE … JUST BECAUSE THE WORLD AS WE KNOW IT HAS.
She can't get to him.
He can't come home.
Is he even alive?
As the result of an EMP, Mikayla's world is a different place.
Then a mysterious stranger shows up.
Mitch has her questioning everything – her hope, her love, her plans for a future that may not even exist.
He has a promise to keep. To whom, he can't remember.
And they soon discover they share an unimaginable connection – one with enough power to strengthen their bond … or ultimately tear them apart.
Where to Purchase:
Where to Download:
Amazon
Also available in Kindle Unlimited