The Mitchell Sisters Box Set
Books 1-3 of the Mitchell Sisters Series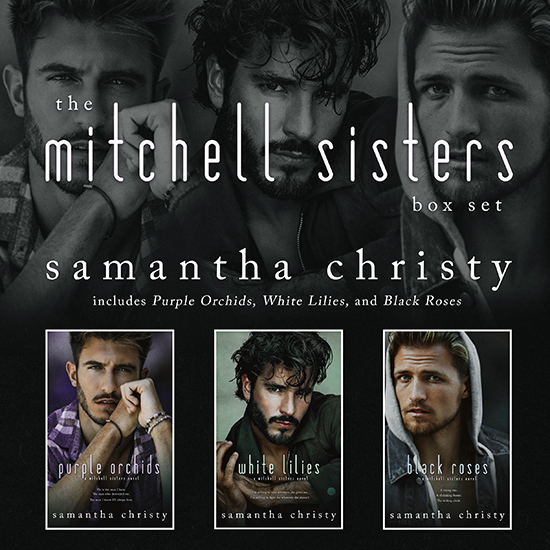 Three sisters.
Three sexy, swoon-worthy men.
Three unforgettable stories.
Book One – Purple Orchids
Friends. Lovers. Enemies.
Sometimes the lines between them are blurred.
He broke my heart back in college.
And now, years later, a chance meeting has him claiming he never dumped me.
Says I dumped him. Broke his heart. Ruined his life.
Someone is lying.
It's not me.
But the thing is – it's not him either.
I'm SO over him.
Okay, maybe not.
But he doesn't have to know that.
Because loving him again isn't worth the risk I'd have to take or the secret I'd be forced to reveal.
Or is it?
Book Two – White Lilies
HER SELFLESS ACT.
Her best friend's husband.
A twist of fate.
They wanted her to have their baby.
She was never supposed to fall in love with him
… or was she?
A story about unconditional love, heartbreaking loss, and undying friendship.
Book Three – Black Roses
HER SECRETS ARE UGLY.
They've kept her from coming home.
Now she's risking everything to return.
She thought it would be a quick trip. Show up. Say the right words. Then she'd be gone.
She never counted on meeting him.
The football star.
The single dad.
He knew she was shattered by some event she kept hidden under lock and key.
The clues on her body failed to reveal her secrets – unlike scars on his body that clearly publicized his.
The clock was ticking, giving him only a short time to uncover the true meaning of the flower branded into her flesh.
Because if she got back on that plane, he knew it would be forever.