The Stone Brothers Box Set
Books 1-3 of the Stone Brothers Series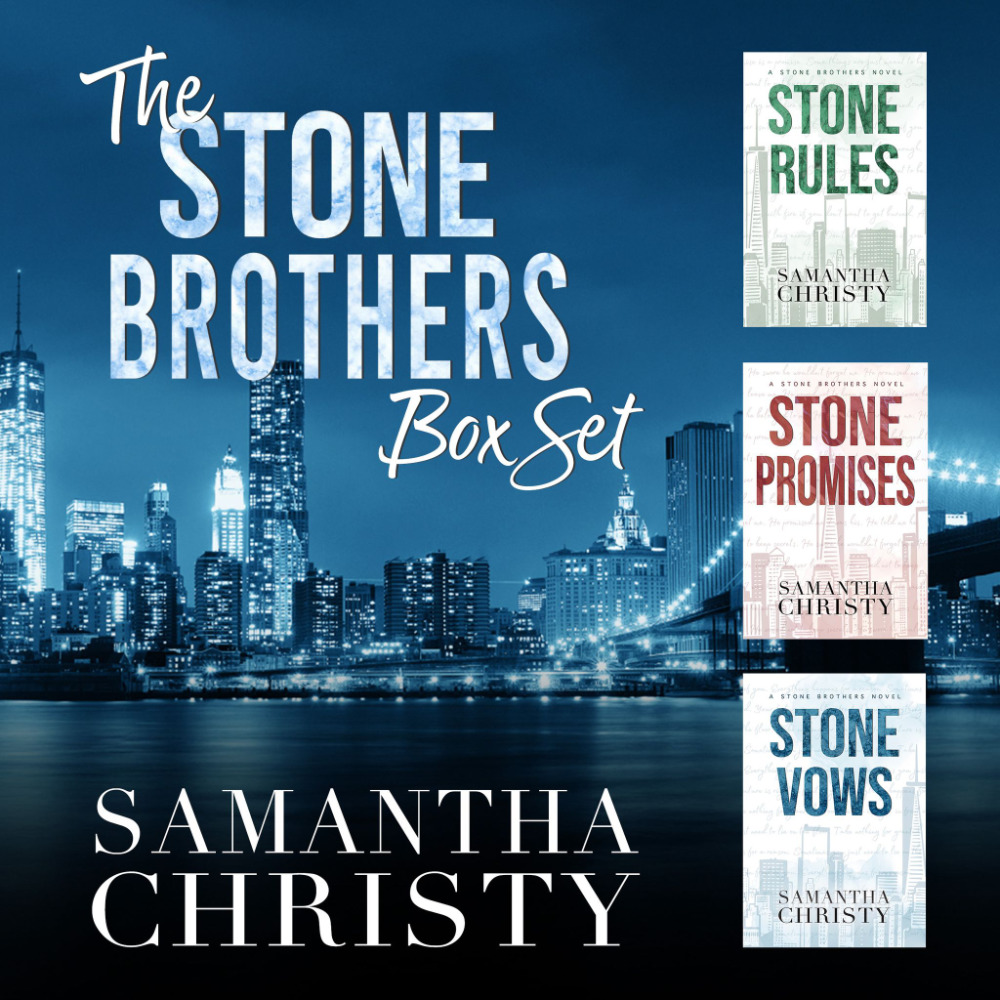 These hot and sexy brothers will have you begging for more.
You'll love them. You'll hate them.
You'll want to hide them away and marry them.
Book One – Stone Rules
CHARLIE DOESN'T PLAY BY THE RULES…
She likes sleeping with men.
Sometimes it's not a choice.
Life hasn't been easy for Charlie. Her mother was a monster. And when Charlie left home, there wasn't always a warm bed, food, or a hot shower.
She figured out how to get by on her looks.
When her mother dies and she comes home to put that part of her life behind her, she finds the diary.
It fills her with rage.
She's out for revenge.
But along the way she meets him.
Ethan DOES play by the rules. And at the top of his list is "Don't get involved with clients."
Will he break his rules for Charlie?
Book Two – Stone Promises
We were childhood friends.
Me and the boy who would grow up to become Hollywood's hottest star.
When I was six – I fell for him at the bus stop.
When I was fifteen – he moved away, taking my heart with him.
When I was twenty-four – he came back for me even though I didn't want him.
The nine years we spent apart, I tried like hell to fill the void.
Apparently, so did he.
Instead of being addicted to me, he became addicted to women, drugs, and money.
So when he showed up on my doorstep offering me everything I'd ever dreamed of – him, I couldn't help but think of the age-old idiom:
Be careful what you wish for.
Book Three – Stone Vows
SHE'S FORBIDDEN.
I'm her doctor.
She's my patient.
My only patient.
She's alone and in trouble.
From the moment I see her, I know she's special.
As a resident, I've spent years living and breathing hospital life.
Then she comes into my ER, and my need to help her is all consuming.
Despite the consequences…
Even knowing I could lose everything I've worked for…
I can't stay away.
How far will I go to protect her?
Stone Rules: Sexual abuse/assault of a minor, accidental death of a child
Stone Promises: Stalking
Stone Vows: Domestic abuse, intense medical situations such as stillborn baby (not main character)